" 'You mean you didn't want the abortion?' Wow, I thought, she doesn't know."
Most (not all) abortions involve coercion, which takes many forms, including professionally negligent, deceptive or conflicted counseling or personal pressure that comes from all sides and can escalate to violence.  People in your own church are at risk or already hurt by abortion.

There is no "one size fits all" before abortion, but after abortion, many individuals and families among us are left to cope alone — a reality with heartbreaking and often devastating consequences.
Join the project to get a free book to educate and motivate your pastors, plus supporting materials for the church. Encourage pastors to talk about pre- and post-abortion injustices, plus help, hope and healing before or after abortion.
Educate and Encourage Your Pastor to Talk about Unwanted Abortions, Plus Help, Hope and Healing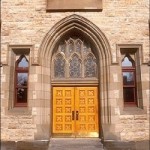 Our churches are at the forefront of defending the authentic, God-given rights of unborn children and their mothers. They are also at the forefront of providing resources, care, and spiritual and emotional support for those at risk of unwanted abortions or individuals and the families of those already hurt, injured or killed by abortion-related issues.
But as our Church Awareness Survey showed, although many in our churches are working to help those facing these issues, this work often remains hidden. Many in our churches remain unaware that most abortions are unwanted or coerced, that forced abortions happen here, and of so many other struggles before or after abortion facing the women and men sitting in the pews next to them.
They need to know there is a better way!
When we launched the Church Awareness Project last fall, we sent out a free e-book and other resources for participants to share with their pastor, church leaders or others in their faith community. We knew that if we wanted to make a real change in the Church, we had to start with educating those in leadership positions.
This year, we'll once again be encouraging people to get involved and reach even more people to get involved. This includes observing Coerced Abortion Awareness Week, which is April 15-22, this year.
The number one, most important way to get the message out to people in your church or faith community is to have your pastor or preacher talk about it from the pulpit. This lets people in the pews know that they are not alone, that help is available and that they will have the support of their entire faith community behind them.
Plan now to participate. If you haven't already, sign up on the Join the Project page so we can reach as many people as possible. Watch for more resources and project ideas coming soon!