The Jericho Plan
Breaking Down the Walls Which Prevent Post-Abortion Healing
David C. Reardon, Ph.D.
TABLE OF CONTENTS
Frontpiece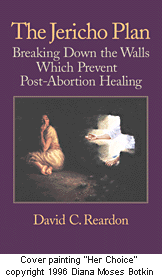 Copyright page
Permissions
Dedication
Conditional Permission to Reprint

Introduction
Defusing Tensions
Our Long-Range Goal
Adjusting This Material to Your Perspective
An Overview of Our Approach

CHAPTER ONE: FOCUSING ON WOMEN
The Natural Order of Things
Learning Our Lessons, Too
Compassion for the Pregnant Woman
Compassion for the Post-Aborted
Who Can Best Speak for the Unborn?
A Pro-Life Lesson Plan
Teaching Morality by Teaching Science
Summary

CHAPTER TWO: AN OVERVIEW OF OUR HEALING STRATEGY
Removing the Plank From Our Own Eye
Reducing Judgmentalism
Building Bridges With Empathy
A Healing Environment Builds Strength
Toward Critical Mass
Summary

CHAPTER THREE: CONQUERING DESPAIR
Escape Through Self-Destruction
The Weapon of Despair
The Devil versus Christ
Despair and Forgiveness
Words to a Grieving Mother
The Worst Evil
Summary

CHAPTER FOUR: TRUSTING GOD'S MERCY FOR UNBORN CHILDREN
The Issue: The Necessity of Baptism
God's Special Love for Children
Theories of Salvation
The Holy Innocents
Summary

CHAPTER FIVE: SAMPLES OF THE JERICHO SERMONS IN THREE STEPS
Sermon One
Sermon Two
Sermon Three

CHAPTER SIX: MISCELLANY
After an Abortion: Steps Toward Healing
The Decision to Forgive
Bits and Pieces
Especially Relevant Bible Verses
Catholic Points
The Gift of Hope
Abortion and Teens
Abortion and Teens, II
To Those Who Assisted Others in Abortion
Anger
Hanging Onto Guilt
Grief
Others Have Gone Before You
Entrusting Your Child to God
All Things Can Be Made to Serve God
"Let's Face Our Fears"

CHAPTER SEVEN: TESTIMONIES
Losing Respect for Oneself
The Ongoing Loss of Abortion
The Life-Long Secret
Trying to Find Peace
The Grandmother's Pain
Words from a Father
"Unable To Forgive Myself"
Nowhere To Turn
No Parents, No Husband, No Baby
Abortion Following Rape
Trying to Survive
The Dream

RESOURCES
Pro-Life Clergy Groups & Clergy-Specific Resources
Post-Abortion Counseling and Training
Post-Abortion Research and Education
Books, Study Guides, and Pamphlets


Copyright 1996 David C. Reardon. Excerpted with permission for from The Jericho Plan: Breaking Down the Walls Which Prevent Post-Abortion Healing, published by Acorn Books, PO Box 7348, Springfield, IL 62791-7348 for internet posting exclusively at www.afterabortion.org. All Rights Reserved.