For Immediate Release

Rape and Incest Victims
Reject and Regret Abortions:
New Book Surveys 192 Victims

Springfield, IL -- A woman becomes pregnant during a rape. Elsewhere, a 12-year-old incest victim is six months pregnant. Is abortion in such cases necessary or even helpful?
Not according to a new survey of 192 women who became pregnant through sexual assault and either had abortions or carried term. Instead, the consensus opinion of these women who have actually been in this situation is that abortion in their circumstances was injurious. Indeed, the results of this new study suggest that most women who become pregnant through sexual assault do not even want abortions.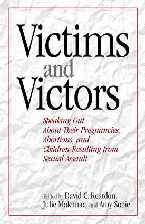 The results of this study are included in Victims and Victors: Speaking Out About Their Pregnancies, Abortions, and Children Resulting from Sexual Assault, edited by Dr. David C. Reardon, Julie Makimaa and Amy Sobie. In addition to reporting on this survey of sexual assault victims, the new book also includes the powerful personal testimonies of twenty women and helpful background information on this complex issue.

"Many of the women in our sample aborted only because they were pressured to do so, and most reported that the abortion only increased their experience of grief and trauma," said Reardon. "In contrast, none of the women who carried to term said they wished they had not given birth or that they had chosen abortion instead. Many of these women said that their children had bought peace and healing to their lives."

Most women who aborted stated that abortion increased the sense of guilt and shame they felt after sexual assault. They often reported problems such as depression, substance abuse, broken and abusive relationships, and suicide attempts after their abortions.

"Abortion increases the woman's sense of isolation and shame by allowing others to pretend the problem doesn't exist," Reardon said. "By getting rid of the pregnancy, which is a reminder of the sexual assault, it allows other people to ignore the woman's need for understanding and honest exploration and resolution of what she has been through."

A major point raised in the book is an appeal to allow women who have become pregnant through sexual assault to testify at congressional hearings. "We feel that legislative hearings would provide a forum for women who have experienced sexual assault pregnancies to share their insights and dispel misconceptions," Reardon said. "These women deserve the right to speak for themselves."

Victims and Victors challenges readers to develop a more caring and compassionate attitude for women who are experiencing rape or incest pregnancies. It asks: how can we best meet the needs of these women and their children? What should their loved ones, doctors, pastors and counselors be doing to lend their support in this time of crisis? How should lawmakers react when faced with legislation regarding abortion in cases of sexual assault?

"For too long, pro-lifers have been backed into a corner on this issue," Reardon explained. "Population controllers have exploited people's compassion for rape and incest victims to weaken abortion laws and gain acceptance for abortion on demand. It's time to give these women a chance to speak out for themselves and let the truth be known."

###
Victims and Victors: Speaking Out About their Pregnancies, Abortions and Children Conceived in Sexual Assault, Edited by David C. Reardon, Julie Makimaa, and Amy Sobie / Available from Acorn Books, June 2000.

More about Victims and Victors

ISBN: 0-09648957-1-4 $11.95 (paper) 192 pages.
phone: 1-888-412-2676