"This may be the most powerful book ever published on abortion." — Conservative Book Club
"Quite simply indispensable. From this point on, any feminist who fails to acknowledge … abortion trauma can justly be accused of indifference to women's pain." — Juli Loesch, Feminists for Life, Harmony
Aborted Women, Silent No More
by David C. Reardon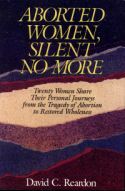 This is the book that is redefined the abortion debate, bringing post-abortion issues center stage.
A comprehensive review of the aftereffects of abortion, this book documents:
The physical aftereffects of abortion
The psychological aftereffects of abortion
Characteristics of high-risk abortion patients
Post-abortion conversion and reconciliation patterns
Complete testimonies of 20 aborted women
A detailed national survey of 252 aborted women
It is a definitive work. Focus On The Family's CITIZEN magazine calls it the "standard reference book on post-abortion problems." Booklist, the professional librarian's buying guide, rates it "highly recommended." Librarian's World recommends it as "an excellent resource recommended for all libraries." Pro-life reviewers are even less restrained:
"Deeply researched…powerful analysis…thoroughly readable." – Fidelity
"Moving, thoughtful, and informative." – Rev. Richard John Neuhaus, Author
"An expose' of the unscrupulous abortion merchants."- Cal Thomas, syndicated columnist
"Cuts through platitudes…gives exploited women a voice."- National Catholic Reporter
"Do yourself a favor and buy this book."- Dr. Wanda Franz, President, National Right to Life
"Well-written, informative, powerful and in the end hopeful." – Voices in the Wilderness
25th Anniversary of the Classic
That Redefined the Abortion Debate
In honor of the 25th anniversary of the original publication of Aborted Women, Silent No More, we are offering 25% off this book for a limited time. See below for ordering information.
---
Ordering Information

Price: $24.95 18.71 U.S., plus 6.00 shipping for orders within the continental U.S. If you are a U.S. customer, click the button below to order a single copy online (if you do not wish to order online, are ordering from outside the U.S. or want to order more than one copy, see more information below).
To order more than one copy, get information on bulk discounts, or to place an order from outside the U.S., send an email to elliotinstitute@gmail.com. We accept only credit card payments or international money orders for non-U.S. orders; we cannot accept checks. If you wish to order by email, we will send you an invoice through PayPal.
For mail orders, send a check or money order to*:
Acorn Books
PO Box 7348
Springfield, IL 62791
*For orders outside the U.S., we only accept international money orders or checks drawn for U.S. funds drawn on a U.S. bank.
To order by phone:
1-888-412-2676 (outside the U.S.: 217-525-8202)
To order by email with PayPal invoicing:
elliotinstitute@gmail.com