Giving Sorrow Words
Women's Stories of Grief After Abortion
by Melinda Tankard Reist
"I wish someone had said, 'There would be losses having a baby, but don't underestimate the loss of having an abortion.'" -Lee
A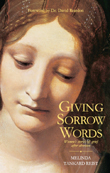 bortion has been presented as a simple procedure that allows women to put the crisis of an unintended pregnancy behind them. The women in this book were told they'd be able to get on with their lives after abortion. But their lives would never be the same.
Now published for the first time in the U.S., Giving Sorrow Words includes the personal accounts of 18 women who have had abortions and draws on the experiences of more than 200 others. These women share their stories of personal suffering and loss-stories that have often gone unheard in a society eager to dismiss abortion-related trauma.
Australian journalist and women's rights advocate Melinda Tankard Reist examines the experiences of women, including the lack of resources and support, the misinformation and lack of informed consent, and the intense pressure and coercion applied by partners, families, and society in general to force women into unwanted abortions."Giving Sorrow Words gives voice to women who have been silenced too long, those who have experienced abortion. Their grief is a sign of the wrenching pain this procedure has imposed over the decades."
–Frederica Mathewes-Green, Author, Real Choices: Listening to Women, Looking for Alternatives to Abortion
"A powerful book. . . . It refuses to accept oversimplified explanations or solutions to abortion. The time has come to stop ignoring the devastating consequences for all."
— Margaret Hrvatin, LISW
Read excerpts from Giving Sorrow Words:
 Excerpt 1: "This Wasn't Really Counseling At All"
Excerpt 2: Disclosure and Coercion
Excerpt 3: "They Didn't Prepare Me for the Horror"
Excerpt 4: "A Conspiracy of Silence"
---
Ordering Information

Price: $14.95 U.S. plus 6.00 shipping (for orders within the U.S). If you are a U.S. customer, visit our book page at TheUnChoice site to order a single copy online.
To order more than one copy, get information on bulk discounts, or to place an order from outside the U.S., send an email to elliotinstitute@gmail.com. We accept only credit card payments or international money orders for non-U.S. orders; we cannot accept checks. If you wish to order by email, we will send you an invoice through PayPal.
For mail orders, send a check or money order to*:
Acorn Books
PO Box 7348
Springfield, IL 62791
*For orders outside the U.S., we only accept international money orders or checks drawn for U.S. funds drawn on a U.S. bank.
To order by phone:
1-888-412-2676 (outside the U.S.: 217-525-8202)
To order by email with PayPal invoicing:
elliotinstitute@gmail.com