Note: This story is reprinted from the book Victims and Victors: Speaking Out About Their Pregnancies, Abortions and Children Resulting From Sexual Assault.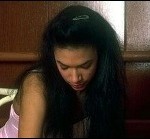 When I was about 13, my stepfather started molesting me. It continued until I came forward with it when I was 16. At age 15, I became pregnant. No one knew but my stepfather and a lady that told him where to take me.
My stepfather told me the only way was to have an abortion. He made me set up an appointment; he dropped me off and picked me up.
I could not tell anyone what had happened. I was messed up after this. I couldn't take much more, so I finally told what was happening to me. On top of all my other problems, the biggest emotional hurt was the killing of that child. I have often wondered what my child would be like today, if I hadn't had an abortion. I am pretty much over the effects of the molestation, but I still have to face a lot of effects from the abortion.  …
I am happily married now and have been for three years. My husband and I have been blessed with a little boy who is one now. I am thankful that the Lord protected me, so I could have the blessing of giving birth.
Thank you for showing the public the truth of the abortion issue. I have always said that I wish pro-choicers could see it through my eyes.
Learn More:
Women Who Became Pregnant Through Sexual Assault Tell Legislators, "Ask Us!"
Special Report on Sexual Assault Pregnancy and Abortion
"Victims and Victors" Book