Abortion, Depression and the Impact on Later Children
– As a new study finds brain changes in children whose mothers were depressed, we examine the research on abortion's impact on subsequent children.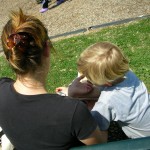 Recently, researchers at the University of Montreal found that children whose mothers were depressed had changes in their brains. From the article at MedicalXpress.com:
Researchers think that brains are sensitive to the quality of child care, according to a study that was directed by Dr. Sonia Lupien and her colleagues from the University of Montreal published today in the Proceedings of the National Academy of Sciences. The scientists worked with ten year old children whose mothers exhibited symptoms of depression throughout their lives, and discovered that the children's amygdala, a part of the brain linked to emotional responses, was enlarged. …

"Having enlarged amygdala could be protective and increase the probability of survival," Lupien said. The amygdala may be protective through a mechanism that produces stress hormones known as glucocorticoids. The researchers noted that the glucocorticoids levels of the children of depressed mothers who participated in this study increased significantly when they were presented with unfamiliar situations, indicating increased reactivity to stress in those children. Adults who grew up in similar circumstances as these children show higher levels of glucocorticoids and a greater glucocorticoid reaction when participating in laboratory stress tests. "What would be the long term consequences of this increased reactivity to stress is unknown at this point."
Enlarged amygdala have also been found in adopted children who were initially raised in orphanages, but not in children who were adopted early in life and by more affluent families, the authors said. They noted that "this strongly suggests that the brain may be highly responsive to the environment early in life."
Studies Link Abortion to Depression in Women

While the study did not look at abortion, studies have found that women who have abortions are at higher risk for depression compared to women who continue the pregnancy — even when the pregnancy is unplanned. A British Medical Journal study found that compared to women who continued a first, unintended pregnancy, women who had a significantly higher risk of clinical depression as measured an average of eight years later.
In a New Zealand study headed by a pro-choice researcher, women who had abortions subsequently experienced higher rates of depression, substance abuse, anxiety disorders, and suicidal behavior than women who had not had abortions, even after controlling for pre-existing conditions. Approximately 42 percent of women with a history of abortion had experienced major depression in the last four years (nearly double the rate of women who had not been pregnant and 35 percent higher than those who carried to term).
And an analysis of a federally funded longitudinal study of American women revealed that, compared to women who gave birth, women who aborted were 65 percent more likely to be at risk of long-term clinical depression after controlling for age, race, education, marital status, history of divorce, income, and prior psychiatric state.[1]
Coping With Unwanted or Emotionally Distressing Abortions
Can Impact Parenting

Research on abortion's impact on parenting and on subsequent children does exist. For example, researchers using data for 4,844 children, collected through the National Longitudinal Survey of Youth, found that children whose mothers had abortions  had less supportive home environments (among 1 to 4 year olds) and more behavioral problems (among 5 to 9 year olds) than children of women without a history of abortion. The results held true even after controlling for maternal age, education, family income, the number of children in the home and maternal depression.[2]
The paper was co-written by Elliot Institute director Dr. David Reardon and published in The Journal of Child Psychology and Psychiatry. The authors wrote that although the results of the study were probably unprecedented, "they were not all that surprising when considered in light of previous research linking unresolved grief associated with other forms of perinatal loss, such as miscarriage and stillbirth, to compromised parenting."
Lead author Dr. Priscilla Coleman of Bowling Green State University said that many women undergo abortions as the result of adverse circumstances or pressure from others, making the experience difficult to cope with if the woman was emotionally attached to the fetus or desired to carry the pregnancy to term.
"An abortion could become psychologically similar to other forms of pregnancy loss in some women," she said.
Indeed, one survey found that 64 percent of American respondents who underwent abortions reported being pressured by others to do so, and a survey of women in post-abortion counseling groups found that more than 80 percent said they would have carried to term under better circumstances or with more support from those around them.
Ways Abortion May Impact Mother-Child Relationships
Coleman also authored a review of studies examining various types of prenatal loss and the effects on subsequent parenting. In the review, she concluded that abortion may be "particularly damaging to the parenting process."[3]
The article, published in Current Women's Health Reviews, looked at already published studies on miscarriage, induced abortion and adoption. It focused on psychological reactions to these various types of loss and discussed how they might affect a mother's relationship with children born after the pregnancy loss.
The paper described a number of ways that a previous abortion can effect a woman's relationship with her living children:
Increased depression and anxiety. Abortion has been linked to higher rates of maternal depression and anxiety before and after birth, which may effect the woman's relationship with her children. In addition, depression is a common predictor for child abuse.
Sleep disorders and disturbances. Women who have had an abortion are more likely to experience sleep disorders compared to women who carry to term, and one survey found that many women attributed the sleep disorders to a past abortion. These sleep disturbances "could render the high energy demands of parenting more complicated."
Substance abuse. Studies have found that women who had an abortion were more likely to engage in substance abuse, and also more likely to smoke or use drugs or alcohol while pregnant. Mothers who abuse drugs or alcohol are more likely to "engage in authoritarian and punitive parenting practices," and parental substance abuse increases the risk that the children will suffer abuse or neglect.
Child abuse. Abortion has been associated with lower emotional support for one's children and with a higher risk of child abuse and neglect.[1]
Abortion has also been linked in numerous studies to problems such as higher rates of suicide and various mental health disorders among women. While the review noted that not every woman may experience psychological problems after abortion that will carry over into their personal relationships, "some women will have carryover effects into the parenting realm."
"The best evidence regarding negative effects of abortion indicates that 20-30 percent will experience serious psychological problems," Coleman wrote. "With 1.3 million U.S. abortions performed annually, a minimum of 130,000 new cases of abortion-related mental health problems appear each year."
"A Profound Source of Suffering"

It is now known that women usually begin feeling maternal attachment in the early stages of pregnancy. Coleman noted that despite the increased responsibilities and stress involved in raising children, "numerous studies have documented positive psychological characteristics associated with motherhood including increases in life satisfaction, self-esteem, empathy, restraint, flexibility and resourcefulness in coping, and assertiveness." Losing a child before or at birth, for any reason, however, "can be a profound source of suffering."
While all forms of pregnancy loss can cause emotional distress that can impact future parenting, the available research indicates that emotional responses after induced abortion are more likely to go unresolved and to persist for a longer time period.
While "society understands that women who miscarry or relinquish a child through adoption may experience sadness and grief; however, grief after abortion … is not because abortion is not acknowledged by our culture as a human death experience," and help to deal with the experience is usually not offered.
Further, many people see abortion as something "wanted" by the mother and don't understand why a woman would experience distress afterward. Coleman pointed out, however, that having an abortion is "sometimes quite inconsistent with the woman's true desires," and many women, especially those who feel conflicted or didn't want the abortion, do feel emotional distress afterwards.
"In many cases, women may suppress thoughts and emotions related to an abortion, because they have not been able to process and or/openly express negative emotions," Coleman wrote, adding that the lack of acknowledgement and support after abortion gives the "covert message that others would rather not hear what we have to say, and this makes it difficult to even identify our reactions to our losses."
~~~
Learn more: For more information on the psychological impact of abortion, download and share our Psychological Risks Fact Sheet.
Find help: For information and resources to help if you or someone you know is pregnant or struggling after abortion, download and share our Help & Healing Booklet.
Citations
1. More information and citations to these studies is available in the Recent Research booklet or in the Thomas W. Strahan Memorial Library at www.AbortionRisks.org.
2. PK Coleman, DC Reardon, JR Cougle, "The quality of caregiving environment and child development outcomes associated with maternal history of abortion using the NLSY data," Journal of Child Psychology and Psychiatry, 43(6):743-757, 2002.
3. PK Coleman, "The Psychological Pain of Perinatal Loss and Subsequent Parenting Risks: Could Induced Abortion Be More Problematic Than Other Forms of Loss," Current Women's Health Issues 5: 88-99, 2009.
Categories: Articles, Research, Uncategorized
5 Responses