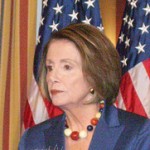 House Minority Leader Nancy Pelosi recently claimed that a bill that would prohibit federal funding for healthcare plans that cover abortions and protect the right of health care workers not to be involved in performing abortions would lead to the deaths of women:
Under this bill, when the Republicans vote for this bill today, they will be voting to say that women can die on the floor and health care providers do not have to intervene if this bill is passed. It's just appalling.
Pro-life advocates argue that Pelosi misrepresented the bill, saying that it doesn't infringe on life-saving treatment. But it is also worth pointing out that abortion is linked to higher death rates among women. Studies of maternal death rates in both the U.S. and Finland have found that women who had abortions were more likely to die in the years following compared to women who gave birth.
The U.S. record-based study, published in the Southern Medical Journal, found that compared to women who gave birth, women who had abortions had a 62 percent higher risk of death from all causes for at least eight years after their pregnancies. Deaths from suicides and accidents were most prominent, with deaths from suicides being 2.5 times higher. Projected on the national population, this effect may contribute to 2,000 – 5,000 more deaths among women each year.
And researchers examining deaths among the entire population of women in Finland found that compared to women who continued their pregnancies, women who aborted were:
3.5 times more likely to die in the following year
1.6 times more likely to die of natural causes
6 times more likely to die of suicide
14 times more likely to die from homicide
4 times more likely to die of injuries related to accidents.

Adding to the tragedy is that many of these deaths are never counted as abortion related. On March 1, 1989, Erica Richardson, a 16-year-old Maryland resident, bled to death from a punctured uterus only hours after undergoing an abortion. During the next five months, two adult women, Gladys Estanislao and Debra Gray, also died from abortion complications. They too were residents of Maryland.
Shockingly, none of these three women was even granted that smallest of recognitions–becoming a statistic. The official statistics issued by Maryland public health officials showed that there were no deaths from abortion in 1989. Indeed, Maryland only reported a single abortion-related death for the entire decade of 1980 to 1989.
There was actually a fourth maternal death related to a 1989 abortion in Maryland. In this case, Susanne Logan fell into a coma during her abortion and awoke four months later as a quadriplegic, unable to talk. She survived for three years, dying in 1992. Since Susanne's death was not an immediate result of her abortion, it has not been counted in any of the official abortion mortality statistics.
These are four deaths that occurred in one small state that reported no abortion deaths for 1989. For that same year, the Abortion Surveillance Unit of the Centers for Disease Control (CDC) reported only 12 deaths for the entire country
If abortion advocates are really concerned about saving lives, then they need to be honest about the deaths and injuries — physical and psychological — of women following abortion.
This is why our research and efforts to educate legislators — and the public — are so important. And we need real support and alternatives for women and girls who become pregnant, most of whom don't really want to abort (most abortions are unwanted or coerced). Abandoning them to the dangers of abortion only adds injury to insult.
Learn more:
Abortionists Are Not Held Accountable for Mistakes: An Emergency Room Physician Shares Her Experiences
Unsafe: Maternal Deaths
AbortionRisks.org
Physical Risks of Abortion Fact Sheet (download and share)
Forced Abortion Fact Sheet (download and share)