Duelo Prohibido

El dolor no expresado del Aborto
"Abortion is a reflection that society has failed women.
Burke and Reardon clearly document this offense against women."
—Serrin Foster, president, Feminists for Life of America
Click here to read this text in Spanish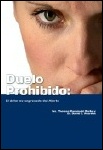 For more than 30 years, our nation has argued about abortion. In that time, more than 30 million women have had one or more abortions. Most abortions are unwanted or coerced, and many women have been traumatized by their experiences.
While the political battle rages, little has been done to address the emotional needs of those who struggle with the aftermath. Instead, social taboos stifle discussion of women's experiences before, during and after abortion. Women are often left feeling isolated, and their recovery is inhibited.

Duelo Prohibido: El dolor no expresado del Aborto (Forbidden Grief: The Unspoken Pain of Abortion) is a haunting review of Dr. Theresa Burke's experience in counseling hundreds of women who have experienced abortion. Dr. Burke reviews the obstacles in the way of post-abortion healing, reviews the full range and depth of the issues surrounding abortion, and illustrates how we can create a more understanding, just and healing society where women will no longer be required to hide their pain.
"This eye-opening book offers the general public a clear picture of the everyday realities of the post-abortion experience. Most importantly, it gives women permission to face and resolve their feelings." —Georgette Forney, co-founder, Silent No More Awareness Campaign
"Insightful. . . Those of us who have faced this 'forbidden grief' can be thankful for Burke and Reardon's beautifully written book. It lights the way for women and men who seek understanding, healing, and peace." —Susan Stanford-Rue, Ph.D., author of Will I Cry Tomorrow?
"An exceptional book . . . It is essential reading for social workers and other mental health professionals." —Tim Brandyberry, MSSW
This book is the Spanish translation of Forbidden Grief: The Unspoken Pain of Abortion.
Click here to read this text in Spanish
Price: $21.95 US plus $6.00 shipping for orders within the continental U.S. In Spanish, 344 pages.
Sale! Get 25% off when you order a single copy of this book.
If you are a U.S. customer, visit our book page at TheUnChoice site to order a single copy online.
Bulk Ordering Information
Send us an email for information on bulk discounts or for orders from outside the U.S.
To order by mail, send a check or money order* to:
Acorn Books
PO Box 7348
Springfield, IL 62791
*Note: we cannot accept non-U.S. checks for international orders. Please send an international money order or email us to pay with PayPal invoicing.
To order by phone:
1-888-412-2676 (outside the U.S.: 217-525-8202)
To order by email with PayPal invoicing:
elliotinstitute@gmail.com