How the Abortion Industry Dropped Medical Standards
In Order to Make a Profit
In honor of the 25th anniversary of the publication of the classic book, Aborted Women, Silent No More, we are publishing edited excerpts from the book. The following is taken from the chapter "Business Before Medicine."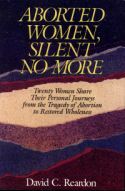 Abortion in America is a commodity, bought and sold for the supposed "benefit" of the buyer and the profit of the seller. Though abortion utilizes medical knowledge, it is not medical — that is, abortions are not prescribed in order to heal the body or cure illness. Even in rare cases where serious medical problems do exist because of the pregnancy, abortion is still not good medicine. Given the physical and psychological risks of this procedure, an informed and truly "conscientious physician" would never prescribe a direct abortion.
For the medical workers and "clinics" engaged in the abortion industry, decisions about providing abortion services are not based on medical science, but on perceived "consumer demand." Rather than being a medical cure prescribed by a trained physician, abortion has become just another service delivered on request, regardless of women's motives or needs — and even regardless of whether they truly even want the procedure or are freely choosing to access it. Abortions are simply dispensed to whomever can pay the price, no questions asked.
This is a far cry from the medical standards of the past, when the dignity of physicians lay in their devotion to protecting human life. This high-minded ideal was summed up in the Hippocratic Oath, by which physicians pledged to use their knowledge and skills only to save lives and improve health.
But when some physicians began setting aside the Hippocratic Oath — an oath which specifically forbids participation in abortion or any other use of medical knowledge for non-healing purposes — they also began to set aside their professionalism. Rather than being medical advisers, they became hired hands. Healthcare became secondary to selling abortion. Whatever patients asked for, they received, regardless of whether it was necessary for their health or not, or even whether the patient truly wanted or had freely chosen the procedure.
Having turned to the pursuit of business before medicine, abortionists shed many of medicine's traditional codes of ethics. These professional standards were once seen as necessary to the provision of health care services, but were now viewed as obstacles to providing efficient and profitable abortion services. Here are five of the differences that separated abortion services from strictly medical services:
Advertising. In the past, the medical community condemned advertising as being undignified and unprofessional. It was forbidden by codes of medical conduct and even illegal in some states. If a physician violated this taboo, he or she would be called before a review board and might have his or her license revoked. Abortionists, however, were the exception, as courts ruled that there could be no restrictions placed on the advertising of abortion services. With this judicial support of their trade, abortionist clinics began advertising. Sometimes, in order to attract more business, they advertised their businesses under more than one name. These advertisements were seldom coy and often distasteful. In the Village Voice, for example, abortion businesses advertised their services with pictures of smiling women, flowers or abstract art. To attract customers away from other businesses, they advertised "loss leaders" such as "free pregnancy tests" or "free contraceptive pills." These "medical services were advertised alongside "adult entertainment" ads for massage parlors and strip clubs.[1]
Lack of government regulation. The Supreme Court ruled that federal, state and local governments could not regulate abortion at all during the first trimester (except to require that it be performed by a physician in a reasonably sterile environment) and could exercise only limited regulation in the second and third trimesters.[2] The exclusion of state or local regulation of abortion was rationalized as being necessary to prevent infringement on the unique "zone of privacy" which patients and doctors share when it comes to abortion.
The abortion industry continues to fight any regulation today. Ironically, in some states minors may be required by law to have parental permission to get their ears pierced, but there is no law requiring parental permission prior to abortion. Some states require waiting periods before other elective surgeries such as sterilization, but not before abortion. Further, states often do little to enforce even the minimal regulations required when it comes to abortion, allowing abortion businesses to get away with violating health and safety standards and even parental notification laws or laws requiring medical personnel to report suspected abuse.
Lack of informed consent. The abortion industry has long fought laws requiring that women be informed of the possible risks or the exact nature of the procedure, or that they be screened for coercion or psychological risk factors before abortion. Indeed, abortions were the only medical personnel given a "constitutional right" to withhold information, supposedly granted so that "conscientious physicians" might "protect" women from being frightened by the risks they face or upset about what the procedure would do to their unborn children.[3] Unfortunately, this "right" to control and censor the information given to women also allows paternalistic control, manipulation, coercion and deceit by the abortion industry and those who profit from it.
Payment in advance. Abortion was the only procedure for which physicians routinely demanded payment in advance. For every other medical procedure, cash-at-the-door was considered not only unprofessional, but so unethical as to be punishable by the loss of surgical privileges.[4]
Payment for referrals. Abortion was also the only medical procedure for which clinics paid cash awards, or "finder's fees," to those who brought them customers. One "consulting service" reportedly received $250,000 in one year in kickbacks for referring women to certain clinics.[5] Some clinics began paying their "counselors" bonuses for each phone inquiry they handled in which they convinced the woman to abort at their facility.[6] If any physician had offered kickbacks for referrals in any other branch of medicine, his or her license would have been revoked.
In short, abortionists have rejected or fought against any medical standards that would encumber their trade, preferring to promote business before health care. While they present abortion under the guise of medicine (since it lends an air of responsibility that cannot be bought with any amount of advertising) they have rejected all the obligations, codes, and oaths that gave medicine such a high place of honor over the centuries. While the abortion industry labels their facilities as "clinics" that provide "medical" services, they operate them as businesses — where  profit comes first.
~~~
Edited excerpt taken from Aborted Women, Silent No More by David C. Reardon. Copyright 1987, 2002 David C. Reardon.
Citations
1. Lynn D. Wardle and Mary Anne Wood, A Lawyer Looks At Abortion (Provo: Brigham Young University Press, 1982), 159; John and Barbara Willke, Handbook on Abortion (Cincinnati: Hayes Publishing Company, Inc., 1979) 99; and The Village Voice, March 1, 1983.
2.  Wardle and Wood, A Lawyer Looks At Abortion, 120-125.
3.  See the U.S. Supreme Court decisions Akron v. Akron Center for Reproductive Health  (1983) and Thornburg v. ACOG (1986); also Willke, Handbook on Abortion, 99.
4.  Willke, Handbook on Abortion, 99.
5.  Ibid., 98.
6.  Pamela Zekman and Pamela Warrick, "The Abortion Profiteers," Chicago  Sun-Times, special reprint Dec. 3, 1978 (original publication Nov. 12, 1978).
Learn more: Order Aborted Women, Silent No More (get 25% off through our special Anniversary Sale)
Related Articles:
The Selling of Abortion
Abortion Industry's "Mission" is to Pressure Women, Say Former Workers
Women Speak Out About "Counseling" in the Abortion Industry
How the Abortion Industry Sells Abortion By Exploiting Normal Feelings
Educate Others:
Special Report on Coercion In the Abortion Industry
Share the above link on your web site, blog, or social media outlets to educate others.