A federal court has upheld the right of states to require abortionists to screen for coercion and other risk factors associated with a higher risk of negative emotional reactions to abortion.
Now is the time to pass similar laws in the 48 states which do not have any requirements for pre-abortion screening.
Please get the ball rolling in your state  by contacting the pro-life and pro-family lobbyists who are already working in your state and are already planning their legislative strategies for 2013.
Using the list below, please call and urge them to make the Elliot Institute's Prevention of Coerced and Unsafe Abortions Act their top legislative priority for 2013.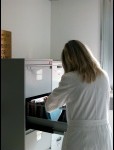 What to Say
You don't have to be an expert to explain the bill.  In fact, the following sample script should be enough to catch their attention and convince them that it is worth investigating.
We've broken down the script into some easy bullet points for you.
"Hi, can I speak to the person in charge of lobbying or legislative initiatives?"
(If they are not available,) "Can I get an email address?"
(When finally talking to the right person) "Hi!  Are you aware of the new kind of abortion regulation that creates liability for negligent pre-abortion screening?"
"Forms of this this model bill have been been passed in two states: Nebraska and South Dakota."
"Last month a federal court lifted the temporary injunction against the law in South Dakota, recognizing that states have a right to put into law a standard of care for adequate pre-abortion screening for coercion and other risk factors for psychological problems after abortion."
"I'm hoping that you will make the Prevention of Coerced and Unsafe Abortions Act your top legislative priority for 2013."
"Can I get your email address to email you a link to the model legislation and the fact sheets and support documents?"
"I'll email you some more information.  In the meantime, you can go right now to view most of the materials you will need at www.stopforcedabortions.com."
After You Call
Step 1:
When you email the promised followup information, please send a carbon copy (cc) to  elliotinstitute@gmail.com.
If you like, you can cut and paste the paragraphs below to use in the body of your email:
Thank you for agreeing to look at the Prevention of Coerced and Unsafe Abortions Act.
Right now, abortionists have established their own standard of care for pre-abortion screening for psychological risk factors.  That standard of care is, "If none of us screen for risk factors, then that is the standard of care — and none of us can be held liable for doing less than our peers."
This is why abortionists routinely ignore all the well documented risk factors for psychological problems after abortion.
The solution to this problem is simple.  By putting the standard of care for proper screening into statute and giving women the right to hold abortionists accountable for failing to screen for these risk factors, we can put an end to one-size-fits-all counseling that ignores each woman's unique risk profile and results in over a million unwanted and predictably unsafe abortions each year.
A federal court has recently upheld the right of states to set standards for pre-abortion screening for risk factors.
The Elliot Institute's revised model legislation reflects the principles in this ruling.  You will also find extensive fact sheets and key points at www.stopforcedabortions.com.
I urge you to make passage of this legislation a priority in 2013.
 Step 2:
Mark you calendar and call back or send an email in one to two weeks to ask what their thoughts are.  This is especially important if they have not looked at the materials you sent.  Also, a little persistence goes a long way in helping people to consider new ideas!
Finding the Lobbyists Most Likely to Help
You may have to do a little research to find the lobbyists typically associated with abortion legislation in your state, but the list below will give you a good start. Ask anyone you talk to in these groups if there is anyone else, or any other influential group in the state, that you should also contact.
You can also contact your state legislators, especially any you may know who care about protecting the rights and lives of women and unborn children who are harmed by abortion.
Share Your Own Ideas
Use the comment section below to give us your feedback and ideas.
If you've talked to anyone in your state, or want to share your thoughts or suggestions about how to talk to lobbyists and legislators about the model legislation, please let us know below! Your input will help others who are lobbying their legislators and lobbyists about this bill.