Detrimental Effects of Abortion
An Annotated Bibliography with Commentary (Third Edition)
Edited by Thomas W. Strahan
---
"The most complete and essential reference book for information on the dangers of abortion."


Detrimental Effects of Abortion is an indispensable reference guide to studies on the most hotly-contested social,moral and political topic our nation is currently facing.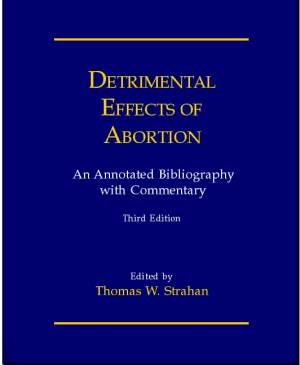 This is the only publication to list, all in one place, all the major statistically significant studies on abortion.
This newly revised third edition has been updated with listings for recent studies, additional commentary by the editor and a reorganized table of contents. Major topic categories include:
Abortion Decision Making
Psychological Effects of Abortion
Social Effects and Implications of Abortion
Physical Effects of Abortion
Abortion and Maternal Mortality
Adolescents and Abortion
Glossary of Terms
Detrimental Effects of Abortion is an invaluable resource for researchers, therapists, counselors, medical professionals, students, political activists and others interested in abortion as a social issue. This is a reference book you will want to have on your bookshelf!

Thomas W. Strahan is a Minnesota attorney focusing on medical/legal issues and the author of numerous articles on abortion. He is editor of The Research Bulletin, a publication of the Washington-based Association for Interdisciplinary Research in Values and Social Change.

More about Detrimental Effects of Abortion

Download Supplement#1 FREE !!
Table of Contents
---
$34.95 US (includes shipping in the U.S.)
Also available in searchable Adobe Acrobat (.pdf) format; also at $34.95.
Toll-free Orders: 1-888-41-ACORN (1-888-412-2676)
To order by mail or for more information, click here.