A great tool for healing & pro-life education .. and a great gift for pastors!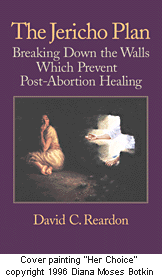 Written especially for pastors, The Jericho Plan focuses on the spiritual impact of abortion and post-abortion healing.
This book is a great resource for pastors and churches, as well as spiritually-based post-abortion healing programs and Bible studies. It can also be of help for those who feel they have lost their faith after an abortion.
The Jericho Plan also gives clergy a proven method of preaching on abortion in a sensitive, compassionate and healing way which does not antagonize church members on either side of the issue. Indeed, we take the fear out of preaching on abortion by showing clergy how to unite their flock, despite differing political views on abortion, by drawing upon their common concern for women.
Includes background information on abortion trauma, sample sermons, stories from those who've been there, and an extensive resource list.

Click here to go to the Contents Page  with links to entire selected chapters! 
---
Ordering Information

Price: $8.95 U.S. plus 6.00 shipping (for orders within the U.S). If you are a U.S. customer, visit our book page at TheUnChoice site to order a single copy online.
To order more than one copy, get information on bulk discounts, or to place an order from outside the U.S., send an email to elliotinstitute@gmail.com. We accept only credit card payments or international money orders for non-U.S. orders; we cannot accept checks. If you wish to order by email, we will send you an invoice through PayPal.
For mail orders, send a check or money order to*:
Acorn Books
PO Box 7348
Springfield, IL 62791
*For orders outside the U.S., we only accept international money orders or checks drawn for U.S. funds drawn on a U.S. bank.
To order by phone:
1-888-412-2676 (outside the U.S.: 217-525-8202)
To order by email with PayPal invoicing:
elliotinstitute@gmail.com